What Our Customers Say
GREAT PERGOLA
"The parts were labeled and packaged very nicely. My husband and I assembled it together. It did take 2 days as we laid everything out and labeled it. The pergola is very sturdy and well made. It's very clean looking and offers great shade. The customer service is outstanding as they followed up to make sure all was well. We highly recommend this pergola and backyard discovery!"
WONDERFUL ADDITION TO OUR YARD!
"Couldn't be happier. Solid, true lumber with remarkably accurate pre-drilled pilot holes made assembly straightforward. We stained/sealed wood prior to assembly per warranty. No warping, dimensions spot on. Looks fantastic."
ARRIVED FULLY STOCKED AND WENT UP FAST!
"The Four boxes arrived together with no problem. My wife and I unpacked and sorted the contents, counted all the parts with success. Moved immediately into assembly mode using a pair of sawhorses. Everything came together as expected. We started on a Friday and we're all done by Sunday! We added a 12x20 shade cloth on top and added four rolling shade cloth devices along the long sides. Looks great and works nicely with our hot high desert California location!"
Ready to Assemble Pergolas
Do you know the difference between "Ready To Assemble" (RTA) and "Do It Yourself" (DIY) kits? Ready-to-Assemble products are designed to be easier to assemble than traditional DIY projects because they come with thorough instructions and no modifications are needed on the pieces or parts. 
On the other hand, some DIY projects may be more complex and require more advanced skills and tools, making them more challenging than RTA projects.  
Every Backyard Discovery pergola is Ready to Assemble and arrives with 
All necessary hardware
Pre-cut posts with no additional sawing or sanding needed
Pre-drilled holes for quick and easy installation of bolts and hardware
Pre-stained pieces that are ready to assemble
Plus, you can use 3D interactive instructions on the BILT® app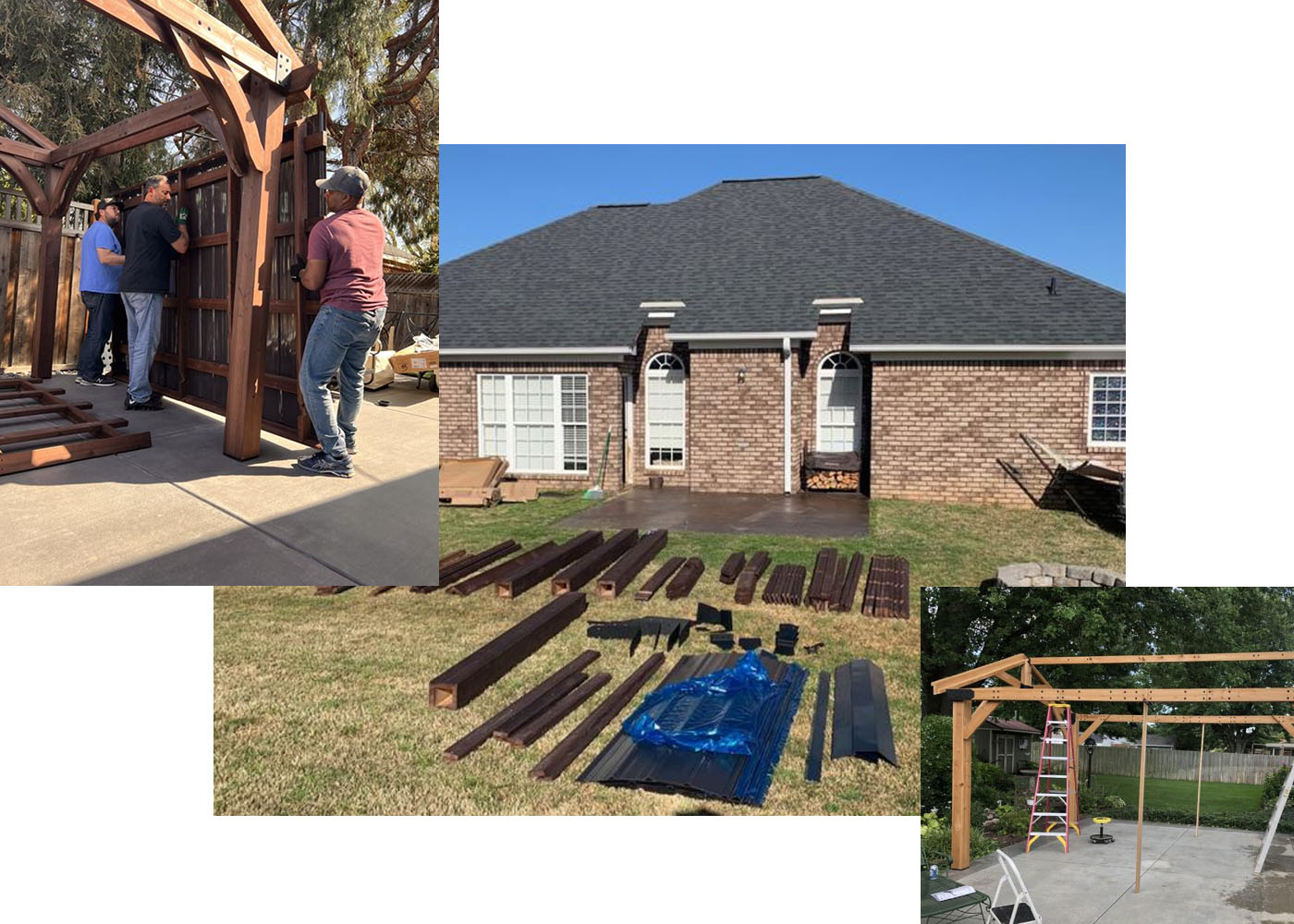 Wood & Metal Pergola Kits
If you order a pergola that requires assembly and it arrives in a confusing mass of boxes with poor instructions, your outdoor structure can quickly turn into a serious headache that could also result in unsafe final assembly.
That's why it's critical to know what you're getting into before you order, and why we make our assembly as easy as possible. When shopping on backyarddiscovery.com, you can take a peek at the instruction manual for every pergola to see what household tools you'll need, and every wood component and piece of hardware included. 
Plus, you can see the exact number of boxes that will arrive, as well as their dimensions and weight, just by scrolling to the "Specs" section of each product page.
BILT® App
Every Backyard Discovery pergola has instructions available on the BILT® app. This makes assembly much easier by providing 3D interactive instructions for your pergola via your phone or tablet. 
Follow audio, text, and animated images
Zoom & rotate 360 degrees
Replay steps instantly
Register your pergola and access warranty information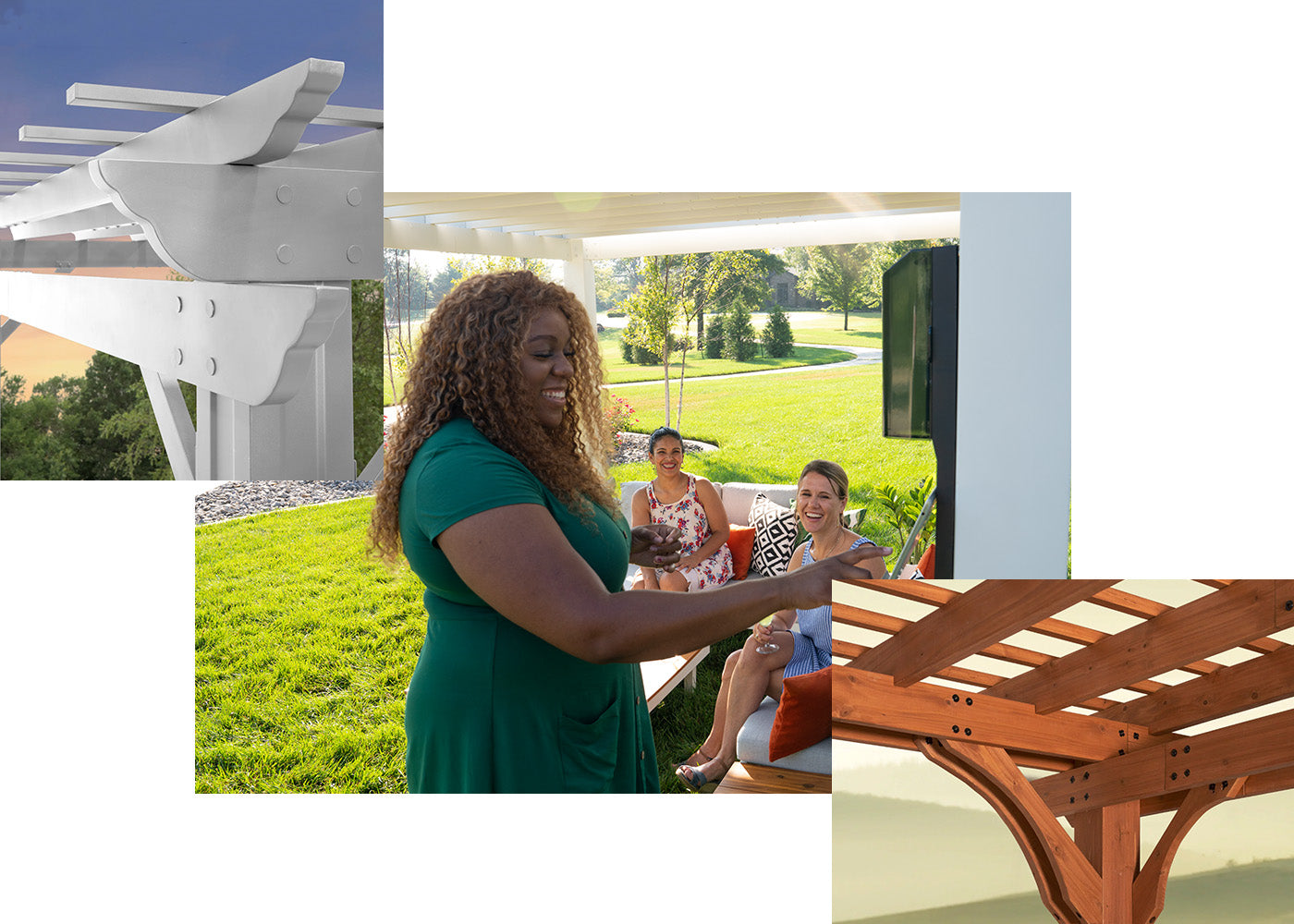 Pergola Assembly Support
When your pergola arrives and you're ready to get started on assembly and installation, you're not diving in alone. We have a team of knowledgeable and friendly representatives who are here to answer questions and provide guidance throughout the entire process. 
Available every day of the week, they are prompt, courteous, and effective at handling any issues or concerns that may arise. At Backyard Discovery, we're committed to ensuring you are satisfied with your purchase and have a positive experience from start to finish. 
Learn What Makes Backyard Discovery Gazebos Different.
Solid engineering, strong weatherproof materials and features, and assembly support set our gazebos apart. Learn more about what sets Backyard Discovery gazebo apart and what to consider when shopping for a gazebo.